Shreveport, May 26, 2016 (GLOBE NEWSWIRE) — SRP Environmental, LLC (Shreveport, LA,) an Inc. 5000 company specializing in Environmental, Health, Safety (EHS) and Security Consulting has announced it has acquired the assets of Excel Civil & Environmental Associates, PLLC. ECEA is a provider of Civil, Geotechnical and Environmental Consulting Services to both the private and public sectors in the Southeast. "The acquisition of ECEA broadens our geographic footprint, strengthens & expands our core services and diversifies our customer base," said Keith Sampson, President and CEO of SRP Environmental LLC (SRP).
Mike Stanforth, Founder and Principal Engineer of ECEA, noted, that the acquisition "would provide unparalleled, comprehensive Civil and Environmental Services in an environment that values both clients and service providers. The resources of SRP Environmental, LLC will strengthen our ability to do this and expand our opportunities."
Excel Civil & Environmental Associates, PLLC, located in the Charlotte NC area, has been providing Environmental, Civil and Geotechnical Engineering Services since 1996.
Founded in 1996, SRP Environmental, LLC, has been named to the Inc. 5000 list of fastest growing companies for three consecutive years and was named a ZweigWhite Hot Firm Winner for 2011 and 2012. With operations throughout North America and the Pacific, SRP provides an array of EHS Services that include Environmental Compliance, Assessment, Remediation, Industrial Hygiene, Catastrophe Response, Safety Consulting and Security Integration. The addition of ECEA, a well-respected Civil, Environmental and Geotechnical firm, allows SRP to provide expanded services, thereby maximizing our dedication and proficiency to the client.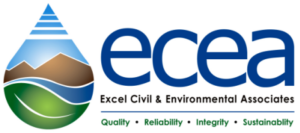 SRP Environmental, LLC
Corporate Headquarters
348 Aero Drive
Shreveport, LA 71107
Office: (318) 222-2364
Website: www.srpenvironmental.com